Tri Wollongong 2015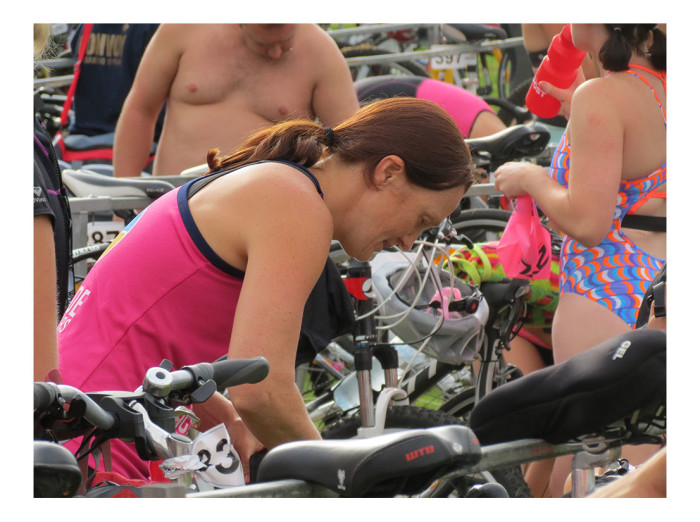 Tri Wollongong 2015 has come and gone and I must say a massive congrats to everyone who participated, including our Beachsiders and especially those who gave it a go for the very first time. Are you wondering what it's like to do your very first triathlon? One of our Beachsiders, Lauren, is here to tell you exactly how it felt-
"The nerves hit the moment I woke up on race day. I couldn't believe the day had finally come. I was going to compete in my very first triathlon!!
I always thought the triathlon was a sport for elite athletes and never in my wildest dreams would I have ever thought about entering one. But then enter Beachside Personal Training! A devoted personal trainer and some amazingly motivated and inspirational members put this crazy idea in my head. Crazy at first but after a few training sessions I realised that this could be possible….and then not only possible but absolutely 100% achievable. I started swimming again for the first time in 20 years. I bought a new bike and tri suit so I at least looked the part. Being a mum of 3.5 kids made it quite hard at times and I wish I had done more in the lead up but I think I prepared as much as I could.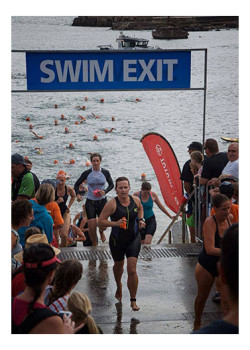 The Tri the Gong Triathlon Festival offered a Try a Tri event for first timers and I thought this would be a perfect way to break into the triathlon scene. It was a very similar distance to the enticer – a 200m swim, 8km ride and 2km run. A great distance to start with.  I was going to treat this event like another practice session, not think about it being a race and remember to keep smiling and have FUN!!
I had everything packed the night before – I had a mental list of everything I needed to take with me and I had gone through my transitions over and over in my head all night so I was fairly confident that I was all set to go. All I had to do was load the car and have breakfast. After only being able to stomach half a banana and a protein shake, I was off. It started raining on the way into Wollongong so on top of my fears of entering my first triathlon I then had to add riding on wet roads into the equation. So, basically, I was starting to freak out!
I got into Lang Park early but it was already packed with people. Day one of the Tri the Gong Triathlon festival consisted of the Female and Male Enticer, The Try a Tri for newies to the sport like me and some of the kids events.  Taking some shelter from the rain under a large tree, I took in the atmosphere. I t felt really surreal.  I just couldn't believe that I was there.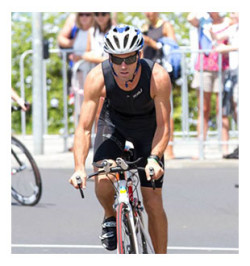 The rain was clearing up and I could see a glimpse of blue sky trying to break through. A welcome sight! After finding my fellow Beachsiders, (there were 6 of us giving it a go on day one and 4 more on Sunday) it was reassuring to know they were feeling the same as me – all excited to experience their first triathlon but also very nervous.
We grabbed our registration packs, attached our numbers to our bikes and helmets and lined up to enter the transition area. I was very surprised about the variety of competitors.  Mums with push bikes complete with baby seat on the back and basket on the front. That was very cool to see! I was actually feeling a lot calmer now. I knew exactly what I had to do thanks to the Beachside tri practice sessions and watching piles of YouTube clips).  I picked a spot, hung up my bike and methodically laid out my gear.  After a quick happy snap for the Beachside archives, we had our race briefing and before I knew it we were heading to the harbour to start. Eeeek!!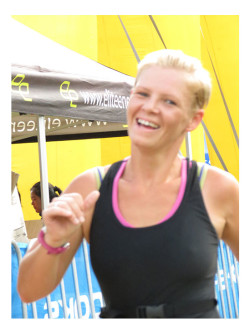 I watched the 1st wave of competitors start and then it was my turn. The swim leg was actually the one I worried the most about. I consider myself to be an ok swimmer but the thought of swimming in a pack was actually quite terrifying for me. As soon as my feet touched the water I tried to think about my race plan – either hit the front hard or hang at the back or side.  The start buzzer sounded.  I decided to go for the front but nearing the first buoy I found that the pack had caught up with me.  I felt a kick in the chest and a hand grabbed my foot and pulled me back. I decided to slow down and try and find some space. A bit of breast stroke and then some easy side stroke taking in the view of our spectacular harbour got me into a good stretch to finish strong.
Running to the 1st transition, I was feeling good. I was a little disappointed in my swim but didn't dwell too much on it. I had to think about the ride now. The transition was going smoothly. I remembered to put my helmet on first, shoes on, race belt on and off I ran with my bike. I got to the mounting line……and couldn't get on the bike!  After a minute or so (it seemed like an hour) of fighting with my toe cages, I was off!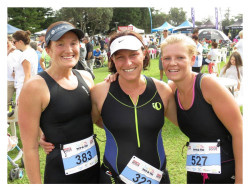 The ride felt awesome!! The 8km course was 4 laps up to the lighthouse and back down to WIN Entertainment Centre. I was advised to take it easy on the road as it was still a little wet but when you're in the moment, you just don't care! Flying down the hill from the lighthouse was just the best feeling and hearing the cheers from the other Beachside members and their families made it all that much better.
The 2nd transition was the easy one. Rack the bike, helmet off and RUN!
The 2km run south to behind WIN Stadium and back to Lang Park was over way too quickly. It felt surprisingly good and I could easily have kept going.  Running the final 50m towards the finish line the realisation of what I had just done was starting to sink in – I did it!  I actually did it!
I can't even begin to explain how I felt after crossing that finish line. I couldn't stop smiling and was on such a high all day. I am completely hooked and can't wait to do my next one."
-Lauren Wilson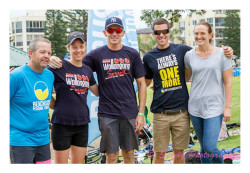 A huge Congratulations to Lauren Wilson, Emma Brennan, Danielle Hansen, Lorri Field, Kellie Thomson and Pete Macpherson who completed their very first triathlons and placed quite well in their categories, and also to Jess Davis, Leigh Schouten and Pete Heddles who along with myself, added another completed triathlon to their lists.
Your performance was great and the support you gave the other team members was fantastic. I'm looking forward to our next crazy event!
[soliloquy id="1675″]