Sublime Point Walk 2015
They said it was steep. They said there were lots of steps. They said you can't do it with kids. Well, I guess we were about to find out! Sublime Point walk, here we come!
The first time we scheduled this social outing we lucked out with some miserable weather and called it off opting to wait for a more scenic and enjoyable day. This time I don't think the weather could've been any better. Blue skies, sunshine and a slight breeze. It looks like all signs were pointing in the right direction. For us, that happened to be straight up, to the top of the escarpment.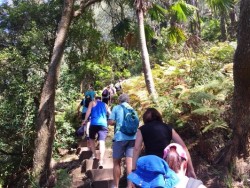 One by one the Beachside Family turned up at the meeting point at the bottom of the escarpment, no-one really knowing what to expect. Once we had all arrived, those without kids were ready tackle climb while those of us with kids promptly began strapping them to our bags and crossed our fingers we'd make it to the top.
Sublime Point walking track is one of the iconic treks of the Illawarra escarpment. It is a beautiful walk through lush coastal rainforest and something many Beachsiders have been looking forward to completing for quite some time. The track begins steeply and stays steep and soon enough the path gives way to stairs. Lots and lots of stairs. As we climb we are rewarded with a beautiful surrounding of dense forests dotted with tree ferns and palms and the sounds of yellow-tailed black cockatoos, raptor birds such as falcons and kestrels and plenty of other birds singing away.
These, as well as taking in the glimpses of the coast between trees, were all great excuses to stop and have a quick rest, (for the kids' sake of course) and let our poor little legs recover. Once the stairs had finally been tamed, we then approached a series of ladders just in case it wasn't steep enough for us already.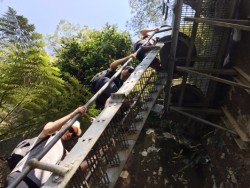 With backpacks and babies strapped to our back and children on shoulders or scooting up the ladders in front of us, we finally reached the summit. 300m straight up and 40 minutes we took our well earned rest and drank in the magnificent coastal views. After some quick pics, letting the kids stretch their legs and some refueling it was time to head back down.
Although it was quite a bit faster, it was also had some peculiar side effects. Anyone who has walked down a long, long, LONG hill or set of stairs will know the feeling of your legs about to give out under you. It's a strange feeling made even stranger by your legs shaking when you stop at the bottom. Our amusement was coupled with a sense of achievement and camaraderie of taking on and conquering the track, kids and all.
How steep? How many steps? Can you do it with kids? The answer to these questions is- A Beachside can do anything. Great work team and thanks for yet another amazing day out.