Run Wollongong 2015
Beachsider Danielle takes you through Run Wollongong 2015 from start to finish and does it with two children plus another on it's way!
"What can I say? I started my fitness journey just over a year ago and my very first event was Run Wollongong. I still can't believe back then and only 5 weeks after starting with Kieran, I completed 12kms along with my fellow beachside mate Emma.
This year, preggers an all, both Emma and I wanted to complete the event again to go back to where it all started, where we got bitten by the event bug. It only takes that one great event to change you somehow and make you want more and more, and that's exactly what has happened in the past year.
Run Wollongong 2015 was a great event with a big turn out of 3250 people and the best part of the event is all the entry money paid, goes to Wollongong hospital children's ward.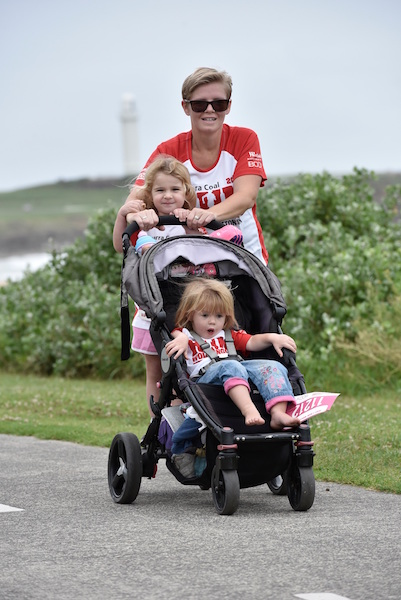 This year I decided to take my two young girls- Layla and Rya in the 6km run with me, I had decided I would be doing a walk with an occasional jog, but as always the atmosphere took hold of Layla and myself and we just started running! Layla would jump on the back of the pram when she got tired but she ran the majority of the course. I can't believe I ran the event pushing the pram and two kids up those hills!
Run Wollongong 2015 is a beautiful course from running or walking along Wollongong harbour to win stadium through the sea of red and white. We finished the same way as the year before- with Emma meeting me just before the finish line to motivate and run the remaining 300m together. It's great having encouragement and fulfilling a journey with friends by your side and if you look at our photos from last years run, even though we have big, round, pregnant bellies now, we still both look better and fitter than before. It's awesome having a fitness timeline of how far you have come, you really don't believe it until you see it.
There was so much to see and do after the run with live performances and famous athletes walking around signing autographs to jumping castles an face painting for the kids, was a great morning out and an event I would love to continue doing every year.
The best part of Run Wollongong 2015, which absolutely made my day, was to see the smile on Layla's face and the new found love she has for running. Every day since she has asked to go out for a run. This just shows the great example we can set and teach our children.
I can't wait to go further next year with my fitness. My children have inspired me more than I could ever imagine and I believe I have inspired them."
Danielle Hansen