Husky Half Marathon 2015
The Husky Half Marathon 2015 has been run and a few of our best Beachsiders where there running along. Read along as Beachside Michele tells you exactly what it felt like to run on the day…
"After completing the City2Surf a few weeks prior, I knew I had been bitten by the 'event bug'. That's when the Husky Half Marathon 2015 jumped in on my to-do list. As it was last minute, I didn't feel ready enough to conquer the half marathon myself so to me the option to enter as a team and split the distance between us lit up like a Christmas tree. Sign me up!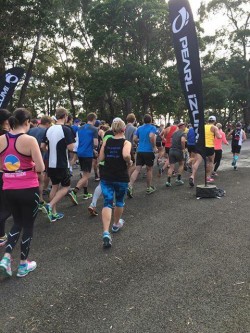 Fellow Beachsider Jess and I entered as team Beachside JAM (Jess And Michele), but in the week leading up to the event Jess fell ill and reluctantly had to pull out and surrender her spot. So I invited my Mum, Debbie along to be my new partner. We were now team Beachside MAD… in more ways than one (Michele and Deb).
Nerves set in for Mum the night before as this was her first ever fun run but I was feeling confident. The distance was one I was comfortable with and I knew the course was relatively flat.
The morning of the event had us up and about pretty early, due to nerves, excitement and enough time to get a pre-race snack in. We headed into Huskisson, picked up our race bibs and dawdled around like a couple of excited school girls. It was lucky the view is picturesque, because it was a very crisp 5 degrees with a breeze blowing straight off the bay. We met up with our fellow Beachsiders Danielle and Emma who were participating as team 'Beachside Mums'. Both were decked out in their "Running For Two" singlets and were pumped to go, babies on board. Surprise! They were both pregnant and running the Husky Half Marathon 2015 as well!
The start line saw Danielle and I off as first runners with Emma and Mum cheering us on. The start crowd wasn't too chaotic and everyone spread out with ease after the first turn. As I warmed up and got into a rhythm I felt comfortable with my pace and continually gained confidence as spectators shouted their praise with fellow runners doing the same. As the head of the pack (the elites) looped back they would shout out their support with the odd "come on guys, you can do it". Well didn't that make me puff out my chest and (internally, I hope) yell "I've got this!".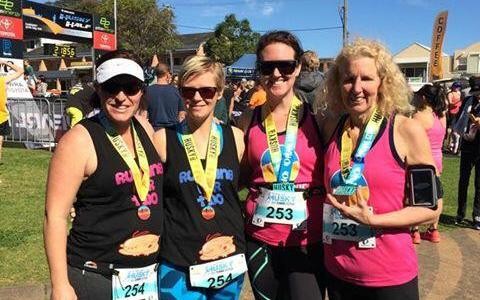 The course and weather were both spectacular. Our changeover however was far from that. I misread the signs and rather than meeting Mum at the swap over point I dashed over the finish line towards a bunch of officials who looked both impressed and confused they already had a finisher! It didn't take me long to realise that I had gone the wrong way, oops! They pointed my in the direction of my frantic mother waving her arms around screaming "You're meant to be over here!". We awkwardly high-fived and Mum was off. After not too long Danielle (who had taken the correct path) approached with a beaming smile on her face and tagged her buddy Emma, much more gracefully than team Beachside MAD. Danielle and I both moved up the course ahead of the finish line to spot our partners and cross the finish line in our teams.
Mum and I decided to hang around for the presentation as they were handing out prizes and doing a small presentation. Little did we know that we were going to be called up and have a bronze medal presented to us. We had finished 3rd out of the 11 Female Teams. We were pretty chuffed with that result and to add to our delight we both managed to score a personal best time each. I couldn't be more proud of myself and especially my Mum.
I loved every single little thing about this event. The course, the view, the weather, the intimacy of the event and having fellow Beachsiders beside me. I can't wait for the next one."
Michele Neden.