City2Surf 2015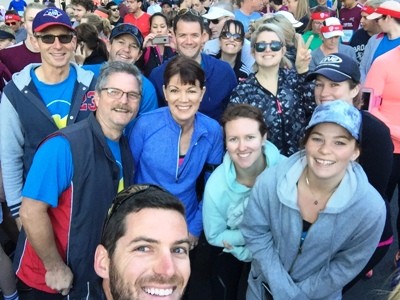 The preparation, organisation, training, lifts and meeting points for the City2Surf 2015 had been done. Now all we needed to do was complete the iconic 14km course from Sydney CBD, through Rose Bay, up Heartbreak Hill and on to the famous Bondi Beach. Pretty simple right?
Saturday morning Run Group was a good warm up for what was to come on Sunday, the day of the event. Following that, the rest of the day for most of us was spent checking bibs, going over what we needed to have packed and checking and double checking alarms were set. Needless to say there were a few little Beachside butterflies floating around in some bellies as the day grew nearer.
A fun run with a Beachside team is always exciting but when it's the first fun run for half of the team it makes it even more special. If you're going to do your first fun run you may as well make it a big one of 14km with 80,000 other people right?
Sunday morning rolled around and it was cold. So cold. As the Beachside cars did the rounds to pick up our runners just before 5am, one school sign let us know that it was only 3 degrees outside. I guess that's one way to get us to run faster!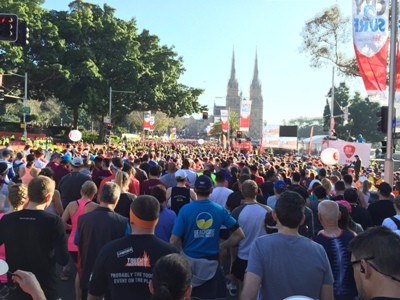 The team came together sorted the bibs and we made our way over to the starting area ready to take on this epic event. Packed in like a giant can of sardines we shuffled our way along the road to our starting area. As the group surged forward to begin the race a roar rose out of the crowd as jumper and jackets were peeled off and strewn all over the footpaths and trees. Then we stopped.
Then started, then stopped again. It seems our celebrations and shedding of layers was a little premature as we waited, shivering and antsy to get moving again.
After a minute or two the juggernaut of City2Surf 2015 participants got moving again and this time there was no stopping it. Over the start line and into the streets, thousands and thousands of feet pounded the pavement, roads, gutters and literally anywhere else you could find a free space to plant your foot.
In an event like this you are very unlikely to keep any more then 2 people together for the race but for the first few kilometres we managed to keep a small group together. After that it was mostly every man for themselves thought with just a glimpse of a Beachside shirt or singlet every now and then.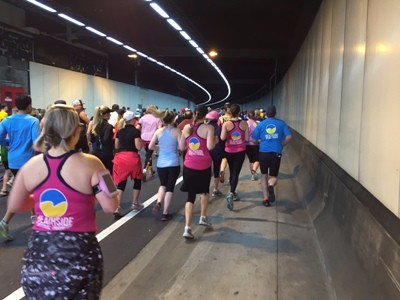 As the kilometres were being mowed down, the crowd started to even out a little but that was the best it got and although it was crowded it made for a fantastic atmosphere. It had well and truly warmed up by then and the day could not have been any better. There were bands, DJs, dancers to keep us pumped and moving along. There were families in their front yards handing out water, fruit and lollies to keep us hydrated and energised and there were friendly faces, smiles, high fives, pats on the back and even plenty of helping hands for the odd trip or two when someone would hit the deck or come very close.
The dreaded Heartbreak Hill loomed ahead and the amazing writhing snake of runners twisted and turned it's way up and over the 1.6km winding incline. Many slowed and stopped but it seems our Beachsiders were determined not to let this beat them and powered up the behemoth with Chris clocking an impressive 8 minutes and 30 seconds to conquer the hill even while battling the crowds.
We zigged and zagged, went up and down gutters, over tree roots and under branches, around runners and even morning walkers and their dogs for the remainder of the 14km until at last we came over a rise or saw the beautiful sparking Bondi Beach. Our finish line.
One or two at a time we crossed the finish line, grabbed a well deserved drink, our finishers medal and wandered over to meet the rest of the team. Michele had whipped up some Beachside approved post race snacks that Deb had graciously brought to the finish line and the team tucked in to replenish some energy then a couple more just because they tasted so good!
Every single one of us hit our goals running between 1:10 and 2:08 and although we were exhausted, energy was high and as we traded times, stories and congratulations and I couldn't help but take a few steps back and take in what a supportive and friendly team we have at Beachside.
Thank you to the runners who participated and supported each other through the race and leading up to race day. Thanks to the participants who couldn't make it but graciously gave up their tickets so others could take their spot. Thank you to the Beachsiders who weren't participating but either came up on the day to show there support or sent text and Facebook messages that morning and who were right there next to us at training pushing us along.
Every time the Beachside crew get together something amazing happens and yet again, you've proved yourself an amazing bunch of people. See you at the next event!
[soliloquy id="1888″]