Member of the Month – March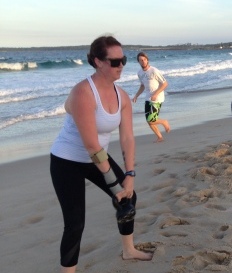 So many of our Beachsiders do such an amazing job week in, week out and don't get to hear all the amazing things I hear about them. You may be surprised to know that quite often I'll be chatting with one of you and you'll say-
"Gee, that person is amazing"
"They always work so hard"
"Wow, they've come a long way"
"They really helped me out that last sessions when I wanted to give up"
So I thought I'd reward one Beachside legend each month with- The Beachside Member Of The Month.
This month I want to say a big congratulations to-
Michele Neden
-for ALWAYS absolutely obliterating every session by bringing everything she's got to every Group Session and Personal Training Session and never walking away with anything left over. Not only has she done an amazing job with her weight and measurements but her fitness and strength have improved out of sight as well.
In my eyes the best transformation isn't her physical one though it is the amount she has changed her attitude towards her health and fitness.
Read all about her amazing transformation here.
Well done Michele, you can choose a piece of Beachside merch from the Online Store on me.