Healthy Muffin Recipe
This is a healthy muffin recipe that you just cannot top. I have given this to many of my clients as a fail safe tasty snack to have without feeling guilty for enjoying. With so many different variations this low fat, low sugar, low GI, good carb recipe will never get boring and even the kids will like it!
I've taken some time to perfect this recipe by trial and error and experimentation but I think I have finally got the best result, and it doesn't get any better than this.
Ingredients
4 eggs
1 cup of apple sauce
2 teaspoons of vanilla essence
2 teaspoons of cinnamon
2 teaspoon of mixed spice
1 teaspoon of baking powder
3 cups of rolled oats
You choice of flavourings
Method-
1. Pre-heat your oven to 180 Celsius.
2. Mix the eggs, apple sauce and vanilla
3. Mix in the remaining ingredients
4. Share the mixture between 12 muffins
5. Bake for about 20 mins or until just starting to brown on top
6. Turn them around at ten minutes
Here are some of my recommendations to include your healthy muffin recipe for flavouring. I usually choose two and mix it up each time so I'm almost always having a different flavour every time I cook them;
Fruit – apple, orange, banana, apricot, peach, plumb, pineapple, mango, cherry, rock melon, carrot, (any you can think of) Berries – blueberry, strawberry, blackberry, raspberry, boysenberry, (fresh or frozen) Nuts – walnuts, almonds, poppy seeds, pine nuts, coconut, cashew macadamia (beware of the fat content of nuts. If you want to keep the calorie count down use essence instead)
Other – instant coffee, sultanas, dates prunes, extra cinnamon, chocolate (try to choose the healthy ones!)
So how good is this healthy muffin recipe? This is the nutritional information from the base recipe. I have not taken into account the extra flavours you will out in them so be careful. For example ½ cup of chopped walnuts will add an extra 32 calories per muffin, where as half a cup of stewed apple will only add 3 calories per muffin.
Nutrition Facts
| | |
| --- | --- |
| Serving Size 57.5g | Amount Per Serving |
| Calories | 110 |
| Total Fat | 2.8g |
| Saturated Fat | 0.7g |
| Cholesterol | 62mg |
| Sodium | 31mg |
| Total Carbohydrates | 16.9g |
| Dietary Fibre | 2.4g |
| Sugars | 2.4g |
| Protein | 4.6g |
So why is this healthy muffin recipe so good for us?
I have taken out the high GI, processed, system clogging, white flour that wreaks havoc on our blood sugar and insulin levels that make it harder for our bodies to burn fat and have replaced it with low GI plain 100% wholegrain rolled oats. Or as I like to call them, The Super Food! So now your hunger is satisfied for a lot longer without taking in extra calories and the fat burning process isn't impeded.
I replaced the calorie dense nutrition poor, artery clogging, fatty butter with yummy, healthy, nutritious, 100% apple sauce so it binds, stays moist and also makes this recipe low fat. It also helps if you use cup-cake liner instead of greasing or oiling the muffin tins.
And something you have probably noticed in this healthy muffin recipe is it is low sugar because there is none! Why not you ask? Because you don't need it in the first place! There is plenty of flavour in the ingredients we have already added. You don't need the extremely high GI, mood swinging, tooth decaying, evil sugar
So get in the kitchen and use the healthy muffin recipe. The kids will love them, you can now have guilt free snacks and best of all, the only washing up is one spoon, one bowl and a muffin tin! How good is that!
Work harder, Work smarter
Kieran Sernig
Wollongong Aquathon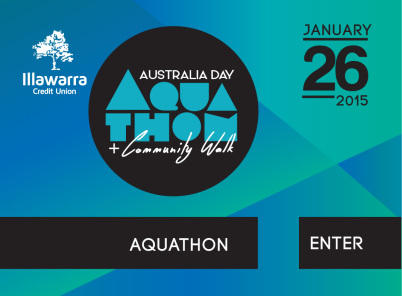 Grab your new, fancy 2015 calendar and jot this date down; 26th January, Wollongong Aquathon, Australia Day! There's no better way to celebrate this beautiful country we live in than a quick dip in our beautiful ocean followed a healthy jog along the coast with a view of the golden sand and a lungful of fresh coastal air. Do the whole thing yourself or split it with a friend, the main thing is you have the fun and supportive Beachside team around you and you enjoy every minute. And don't worry, there is an event and distance for everybody! The Wollongong Aquathon is on Monday 26th January and events start between 6am and 9am. You can choose to do the following events in full or be part of a relay team where one person swims and a second person completes the run.
Ladies TryAqua - 200m swim & 2km run
Short Aqua - 400m swim & 3km run
Long Aqua - 900m swim & 7km run
The swims take place in the safe and calm waters of Wollongong Harbour and the run is mostly along cycle-way paths and a little on grass. There is a distance to suit everybody so join the Beachside team and give it a go with the rest of us. In the TryAqua you have a lead paddler showing you the way and are escorted by lifesavers along the swim and you can even use flippers if you feel you need to. There's nothing stopping you! Entry fees for the Wollongong Aquathon start at $40 for the shorter races and go up $60 for the longer races. To sign up; 1-  
Click Here
 then choose your event and click continue. 2- Sign in, fill out your personal details and
click YES
to "Are you part of a team". Our Group name is
Beachside Babes.
3- Then all you have to do is agree to the waiver and checkout. 4- Jump over to our
Aquathon Group Facebook Page
 and say your coming to keep up with everything happening.

Every Saturday at 6am Beachside Personal Trainers are holding Free sessions at Beverley Whitfield pool down at Shellharbour that anyone is welcome to join so you can get some tips and get to know the great team you will be having a ball with on the day. If you have any questions about the Wollongong Aquathon, there is an
event FAQ here
. Or f you have any questions about the training or our team you can email or call me (Kieran) using the contact details at the bottom right hand corner of this page. But here are some preparation tips to help get you started-
Swimming outdoors is different to swimming in a pool. Practice swimming in different environments (check safe first) as rock pools, lakes, harbours, and protected beaches. The main difference is not having a black line to follow, and no wall to rest on, plus you may need to lift head up and arms more from the water (to see and lift above swell). Whilst swimming in an event aim to observe and follow the more experienced swimmers.
Wollongong Harbour is mostly protected and offers shelter from the seas and most winds but it can get bumpy depending on tide and water activity. The water is mostly clean and you can see the bottom on most days. Lifeguards patrol the waters and as a small boat harbour, it is well away from any commercial large vessels.
Build up distance.
If your aim is 200m (kids or ladies tryaqua) or the short (400m swim) or long (900m), work up to achieving half of the distance in one go. Once you achieve this, add two lots of half distance (ie 200m + 200m with a minute or two rest), than reduce the 'rest' to when you can pretty well make the full distance – ideally aim to cover 100-200m more than the event distance before the event day.
OPEN water practice:
 Try rock pools, protected beaches, harbours, lakes and safe open water venues to get used to no black line, bumpy conditions and feeling of 'open water swim' grab a Beachside teammate, book a 1-on-1 or private group PT session in by yourself or with a friend or two and of course come to our free group training sessions on Saturday morning.
Get the correct gear:
 swimmers and a good pair of googles is all you need but for those that want extra floatation (for speed and/or comfort) a wetsuit can make a large difference.

• For most people the majority of training will be done in a pool. If it's your first open water swim, aim to complete a distance a bit  further than the event
• You may need to breathe to a side you're not used to because of swell, other competitors or to help sighting, so try and practice breathing to both sides.Bilateral breathing is better for training anyway because it keeps your stroke balanced.
• You don't need to just do long distance swims to train for an open water race.Sets of shorter repetitions with rest intervals work well when combined with longer distances, plus they keep training interesting.
• The more efficient your stroke is, the easier it is to swim further. Practice trying to extend each arm pull, and aim to do less strokes per length while keeping your rhythm smooth.
• Get help: join our swim group and run group, come every week and you'll be surprised how quickly your swimming and running fitness develops.
Enter the Wollongong Aquathon Today
Enter Here
making sure to join the Beachside Babes Team (yes, even males. Sorry about the name boys) and don't forget to join our
Aquathon group on Facebook
to keep up to date with everything Beachside/Aquathon. WOOHOO
Read More Testimonials